Whiskey City Hipster
The "Hipster" is very light and versatile hip style arrow quiver. Designed in a smaller footprint without sacrificing all the options a field, target or 3D archer would desire. Created with a few things in mind:
Dependability
Ease of use
Affordable
Features:
The quiver belt (which is included up to 50" adjustable) and has a pitch design so that the quiver rest on the hip right where you want it without any sliding around.
The quiver itself has been reinforced and rigid so that arrows can fit closely and tightly to the body without any moving or clanging around when it's time to concentrate on that perfect shot.
The Hipster is made from a 900 Denier material keeping it lightweight yet rugged.
Hipster has 5 pockets (in addition to the arrow pocket) for things you might want to carry along. A large pocket on the back to house armguards, bow stringers or longer length items and even EDC if you add on the TACO. One pocket in the front of mesh design to keep your finger tab so that it can remain dry.
There are many quivers on the market today, the Hipster is unique in its own right for its small footprint and the way it holds the arrows securely. 

Additional Options:
Hipster Taco
This is the Hipster Taco, for concealing items in the back of your Hipster for concealment yet quick deployment of whatever you choose to use it for. EDC Ready. If you are in country where potential animals are that may harm you. It never hurts to have that deterrent on your person.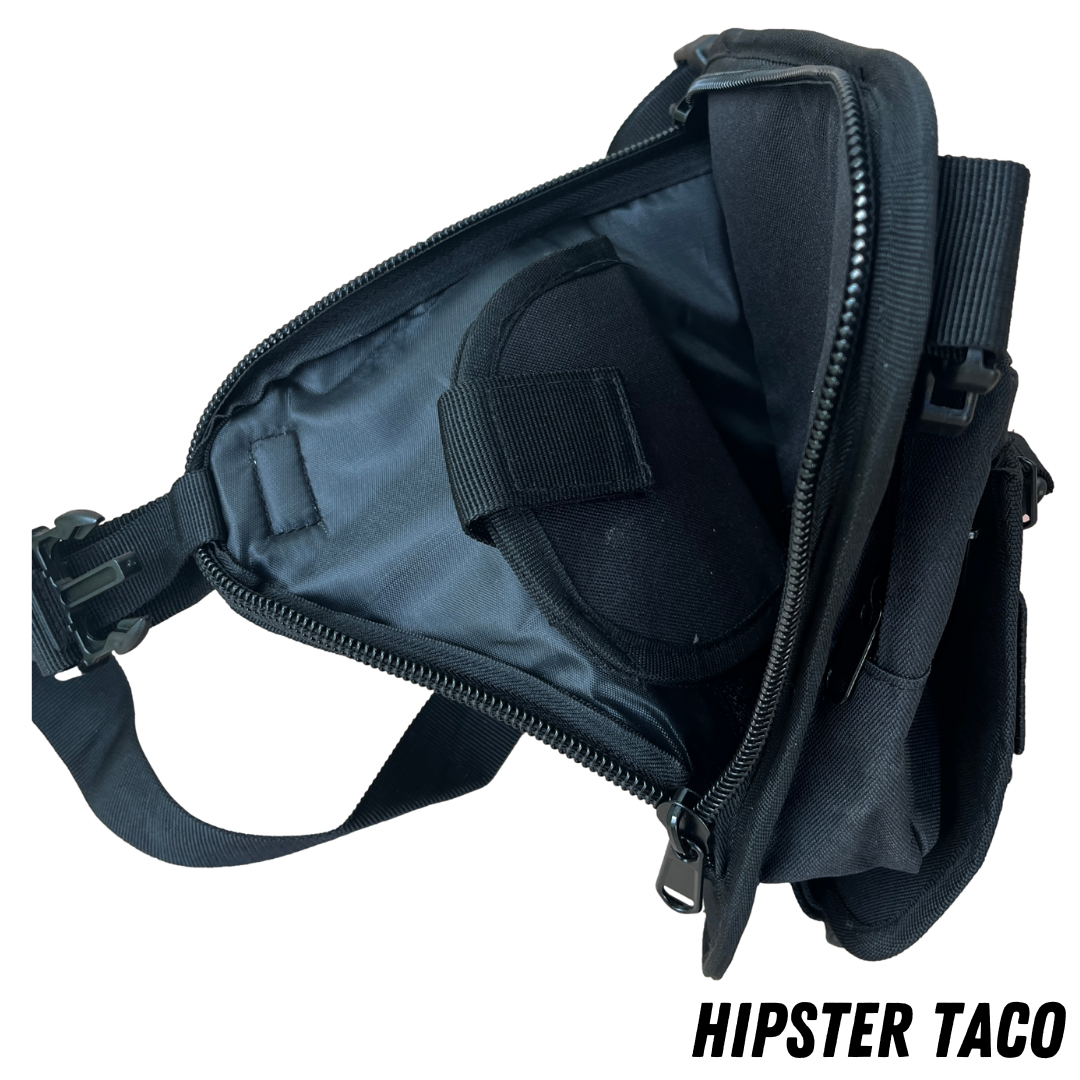 Hipster Clipster
The Clipster is a small clipboard to add to your Hipster. The cool thing about the clipster is that it holds you scorecard in place all day. Gives you a little backing to write on and does not get in the way. Comes with a real deal steel hardened carabiner to hook whenever it's convenient for you on your Hipster quiver. It also comes with the retractable lanyard that stretches out to 40 inches and reels the clipster and scorecard right back in when your done.